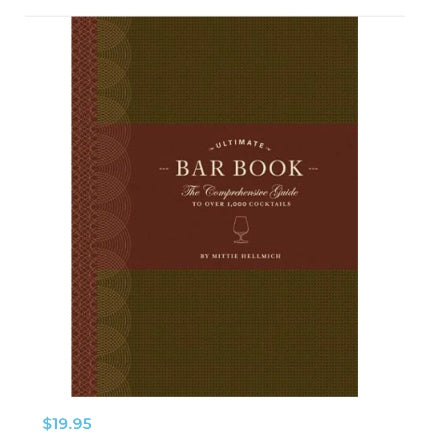 The Ultimate Bar Book
Ultimate Bar Book is the first and only guide to classic and  new drinks . Loadedwith essential-to-know topics such as barware, tools, and mixing tips this bookhas it all. As a mistress of mixology, the author has the classics down to a T .... the Martini, the Bloody Mary, plus the many variations . And then there are the creative new elixirs the author brings to the table, like a Tasmanian Twister Cocktail or the Citron Sparkler. Illustrations show precisely what type of glass should be used for each drink.  With dozens of recipes for garnishes, rims, infusions, and syrups ; punches, gelatin shooters, hot drinks and non-alcoholic beverages.
And lets not forget an essential selection of hangover remedies, Ulitimate Bar Book is nothing short of Top-shelf!